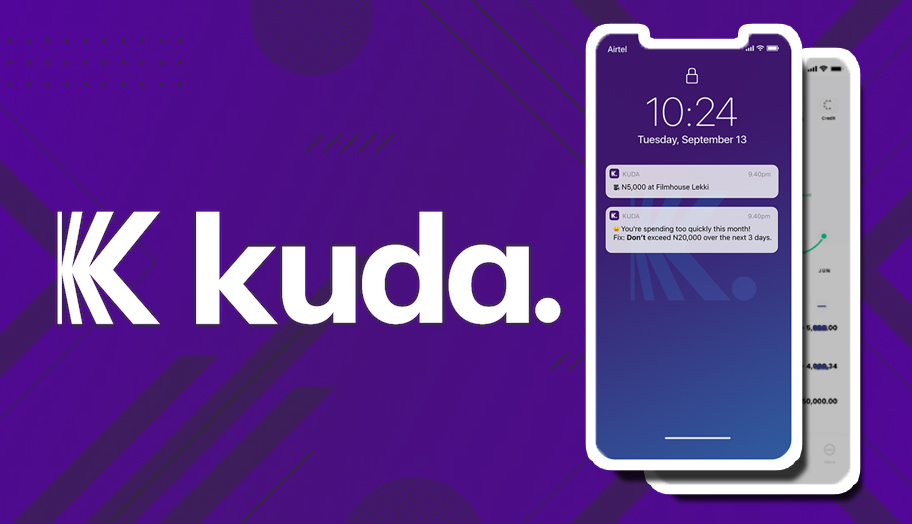 The biggest seed funding round for any African startup! Nigeria's fintech startup Kuda, has defied the odds, beating naysayers about the country's investment environment to raise $10 million in seed funding round. Last year, it raised $1.6 million in pre-seed.
"We want to bank every African on the planet, wherever you are in the world," CEO Babs Ogundeyi said in an interview. "We have built the core banking services in-house so we own the full stack. It means we don't have to piggy back on another financial institution. We may choose to partner on certain products but we don't have to."
Here Is What You Need To Know
The $10 million is being led by EU-based giant VC Target Global, with Entrée Capital and SBI Investment (once part of the defunct SoftBank) also participating.
Other participating investors include Raffael Johnen (founder of Auxmoney), Johan Lorenzen (founder of Holvi), Brandon Krieg/Ed Robinson (founders of Stash), and Oliver and Lish Jung (angel investors in Nubank, Revolut, and Chime).
Kuda will be using the investment to continue accelerating its growth plans and to keep up with customer demand. It is also in the process of opening a London office to attract top tier talent outside Nigeria.
With this investment, Ricardo Schäfer, Partner at Target Global joins Kuda's board.
Last year, Kuda raised $1.6 million pre-seed funding investment led by investor Haresh Aswani with Ragnar Meitern and other angel investors joining.
Why The Investors Invested
A Bank With A Different Touch, Executing Quickly
"The emergence of digital challenger banks, providing customers with a free, digital and significantly better banking experience compared to services offered by traditional banks, has seen huge success across the globe," said Dr. Ricardo Schäfer, Partner at Target Global, in a statement. "Kuda is one of Africa's leading digital challenger banks and one of the fastest growing fintechs on the continent. We are very excited to be working with Babs, Musty and the entire Kuda team to further build on the fantastic momentum they have had since inception and support them in taking the company to the next level."
---
Since launching in September 2019, Kuda has reportedly picked up around 300,000 customers — first consumers and now also small businesses — and on average processes over $500 million of transactions each month. To understand the scale of this traction, even with over 500 branches and business offices in all states in Nigeria, Nigeria's Zenith Bank Plc, one of the country's largest banks by market cap (₦4.83 trillion as at 2017), and largest bank by customer deposit, still has less than 2 million accounts, more than 30 years after it commenced business in Nigeria.
"Kuda's relentless drive and ability to execute quickly has allowed it to carve out a highly disruptive business model in the finance and banking industry," said Avi Eyal, partner at Entrée Capital.
Read also: Nigerian Telco 9Mobile Turns To Banking With The Country's First Ever Payment Service License
What Kuda Does
Kuda is a Lagos and London-based company. Last year, it launched the beta version of its online mobile finance platform. The startup has also received its banking license from the Nigerian Central Bank, giving it a distinction compared to other fintech startups.
"The reason for the full license is because of monetization. As a bank you need to be able to lend, and in Nigeria if you don't have a full license it's hard to lend and make money." Kuda bank founder Babs Ogundeyi said in an interview.
"We have built our own full-stack banking software from scratch. We can also take deposits and connect directly to the switch," he added, referring to the Nigeria's Central Switch — a SWIFT-like system that facilitates bank communication and settlements.
Kuda offers checking accounts with no monthly-fees, a free debit card, and plans to offer consumer savings and P2P payments options on its platform in coming months.
"You can open a bank account within five minutes, do all the KYC in the app, and you get issued a new bank account number," said Ogundeyi.
Ogundeyi — a repeat founder who exited classifieds site Motortradertrader.ng and worked in a finance advisory role to the Nigerian government — co-founded Kuda in 2018 with former Stanbic Bank software developer Musty Mustapha.As of 2014, Nigeria has held the dual distinction as Africa's largest economy and most populous country (with 190 million people).
To scale there, and add some physical infrastructure to its online model, Kuda has correspondent relationships with three of Nigeria's largest financial institutions: GTBank, Access Bank and Zenith Bank.
He clarified the banks are partners and not investors. Kuda customers can use these banks' branches and ATMs to put money into bank accounts or withdraw funds without a fee.
"Even though we don't own a single branch, we actually have the largest branch network in the country," Ogundeyi claimed.
Kuda's plans to generate revenues focus largely around leveraging its bank balances.
"We plan to match different liability classes to the different asset classes that we create. That's how we make money, that's how we get efficiency in terms of income," Ogundeyi said.
In Nigeria, Kuda enters a potentially revenue-rich market, but its one that already hosts a crowded fintech field — as the country becomes ground zero for payments startups and tech investment in Africa.
Read full article here
---
GetFundedAfrica's mission is to uplift people and economies in Africa through entrepreneurship; helping companies find funding, grow, create jobs and solve society's greatest challenges
Guest Contribution, GFA Attract & Application Portal For Funding
Follow Us
One thing I always tell myself and made my philosophy is to admit when I need help and I always find somebody to help. It's crucial to admit it when you are wrong and never make the same mistake again.

— Nkemdilim Begho, Future Software Resources Limited, Nigeria.